Find out your chinese horoscope Animal by Date of birth
Chinese Astrology is organized according to 12 Animals Signs. One Chinese legend attributes the creation of the animal signs to the semi-mythical Yellow Emperor in 2637 B.C. According to another legend, the Lord Buddha summoned all the animals to come to him before he departed from Earth. Only 12 animals came to bid him farewell. As a reward he named a year after each other one in the order that they arrived. First came the Rat, then the Ox, the Tiger, Rabbit, Dragon, Snake, Horse, Sheep, Monkey, Rooster, Dog and Pig. Thus we have 12 signs today.
The Chinese horoscope is based on these 12 Animals Signs, each having its own year in the cycle. The animal ruling year in which you were born exercises a profound influence on your life. As the Chinese say, "This is the animal that hides in your heart".
Enter your birth year, month and day
Your chinese horoscope will rotate to the 12 o'clock position and your zodiac sign will be displayed in the middle on the wheel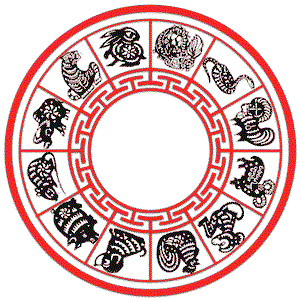 12 Chinese Animals
The twelve animals of the Chinese zodiac—rat, ox, tiger, rabbit, dragon, snake, horse, ram, monkey, rooster, dog, and pig—have been popular decorative motifs in various media
You will Clear all Your Dobuts After using this sections.